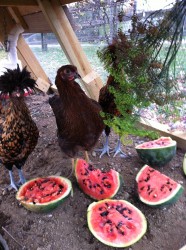 I'm sure the title of this post made your mouth water. Visions of beautifully glazed chicken with a sweet watermelon sauce beginning to form in your mind?
NOPE.  These watermelons are tasty treats for the chickens and their faithful guardian donkeys.  A quick swipe with the machete creates slices that are almost too perfect.  The first melon barely tossed to the ground brings the chickens running–a funny sight.
Phyllis, Liza and friend (pictured right) have not joined the pasture flock but still enjoy the same treats.  They like to have a small side of dill and cilantro, especially, with their watermelon.