Published September 5, 2012 – 5:05 pm
Published March 7, 2012 – 8:27 pm
Kentuckians are famous for commenting on our unpredictable weather.  In case you don't understand what I'm referring to, imagine a 48-hour period with bright sun, wind, dark clouds, rain, hail, tornados, wet snow ending with clear blue skies.  That really happens here.    This winter has been mild–to say the least–and I have been crossing my fingers for snow and freezing temperatures.  In 2012 we have had temperatures ranging from 15.2 degrees to as high as 70.8 degrees F.
If you are interested in learning about weather across Kentucky, check out the commonwealth's official source for weather and climate data.  http://www.kymesonet.org.
It is through the Mesonet site that the current temperature and conditions at Woodland are displayed on our homepage.  The Mesonet station for Oldham County is located atop a bison pasture.
Sunday I went to bed making a mental  note of the pictures I needed to make time to take of the different varieties of Crabapple, Daffodil, Hyacinth, Iris, Witchhazel and more.  Uploading these photographs is a wonderful way to keep up with bloom time from season to season.  Monday morning greeted me with a beautiful blanket of heavy wet snow and a number of voice mails desperately wondering if EVERYTHING IS DEAD!  For those that are worried about their flowering bulbs–no need.  The snow has melted off at such a rate, it counts as nothing short of a good slow watering.  Most of our spring bulbs handled the snow like champs but a few of them looked completely smashed.  
Published October 17, 2011 – 10:45 pm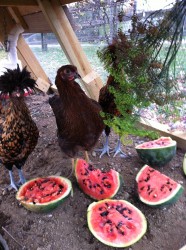 I'm sure the title of this post made your mouth water. Visions of beautifully glazed chicken with a sweet watermelon sauce beginning to form in your mind?
NOPE.  These watermelons are tasty treats for the chickens and their faithful guardian donkeys.  A quick swipe with the machete creates slices that are almost too perfect.  The first melon barely tossed to the ground brings the chickens running–a funny sight.
Phyllis, Liza and friend (pictured right) have not joined the pasture flock but still enjoy the same treats.  They like to have a small side of dill and cilantro, especially, with their watermelon.  
Published September 13, 2011 – 5:46 pm
Our Hereford and Mulefoot hogs have been foraging for their meals in food plots. Bringing the hogs to the food is the most efficient way to feed. I'm pretty sure the hogs also love it.

Published August 17, 2011 – 5:36 pm